July 11, 2023 • Core Banking by Marketing Skaleet
When modernizing Core Banking becomes vital...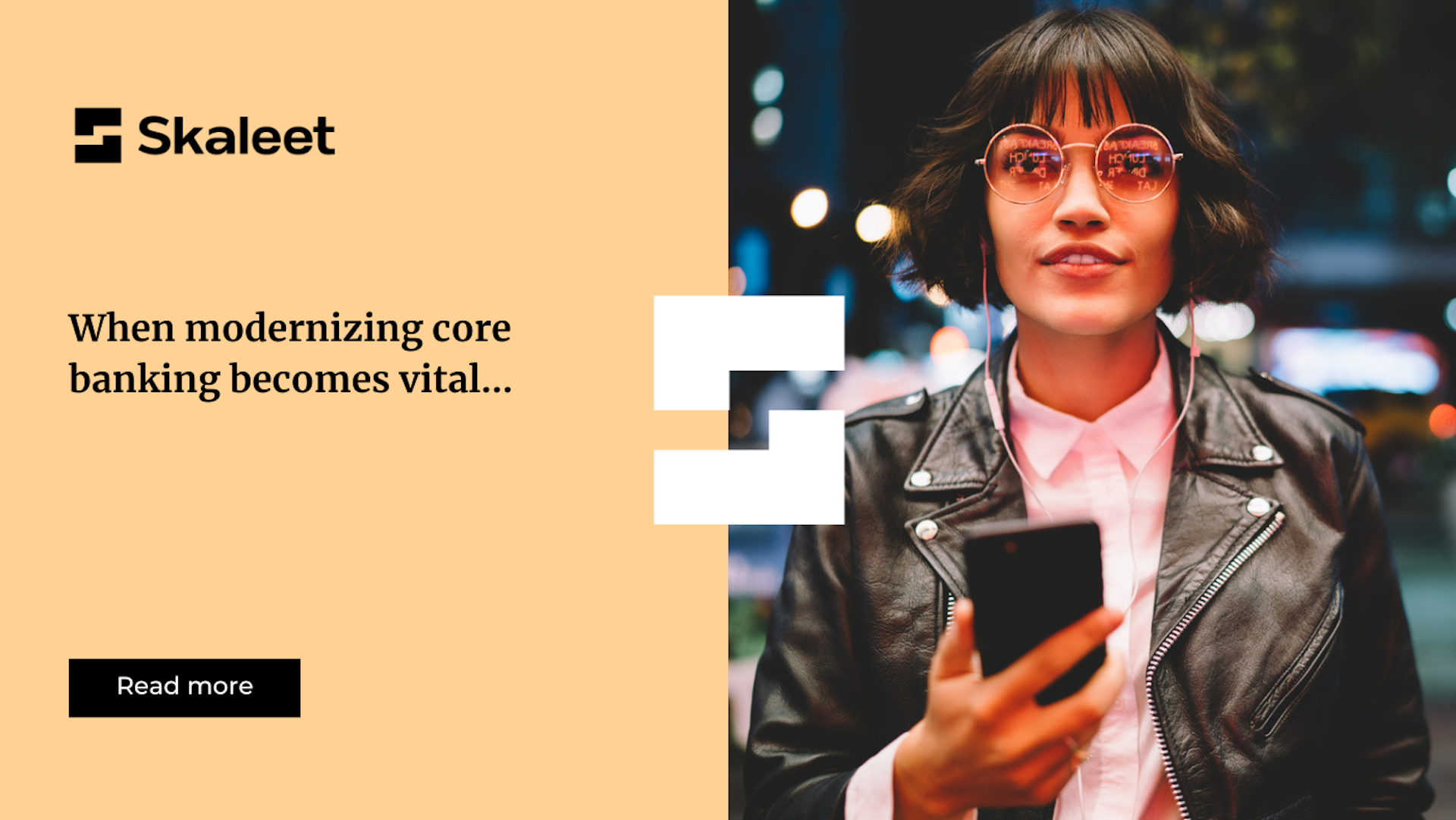 The financial sector faces unprecedented challenges that force institutions to rethink their strategies to remain competitive. Fortunately, technological developments have led to new solutions on the market: next-generation core banking solutions that can meet these new challenges. Find out more!
The financial sector faces new challenges 🏦
The financial sector is undergoing radical change, adapting to technological and regulatory developments and new customer expectations.
Improving the user experience
In the face of competition, financial institutions must offer dynamic, personalized customer journeys. This means adapting as much as possible to customer needs, for example, by providing innovative, 100% digital products and services or gamified support.
Real-time decision-making
Nowadays, users aspire to be able to access their data and make decisions in real time rather than waiting for information to be extracted in predetermined batches. Once again, financial institutions must find ways to meet this demand and promote real-time.
Managing regulatory risks
Regulatory compliance is omnipresent in the financial sector and imposes regular checks on institutions, making processes and customer paths more cumbersome if they are not automated. Therefore, the challenge for organizations is to secure their operations without penalizing the customer experience.
Exploiting customer data
Product selection, portfolio analysis and personalized offers are all tools that can take advantage of proprietary data - provided they are sufficiently individualized. Therefore, organizations are interested in making the most of this data to provide customers with suggestions based on their transactions.
Customize offers
Until recently, financial institutions were content to offer a small range of products to their customers, both retail and corporate. However, customer expectations have evolved and now tend to focus on the same thing: personalization. Configuration of a credit product, personalization of financial reports, and even demand for innovative products such as gas cards. Forced to adapt to these new requirements, financial institutions must offer more flexible and personalized options.
Core Banking Systems: a bygone era?
In the face of these multiple challenges, Core Banking Systems - traditional, legacy technology solutions inherited from the 1980s - seem to have had their day. Due to their lack of flexibility, scalability and speed, they are no longer sufficiently competitive to keep pace with today's fast-moving market.
At issue:
Their architecture: this is called "monolithic" because it's made up of a single, autonomous and independent technological block. The evolution of this type of software represents a complex, costly and time-consuming challenge since the slightest change implies a complete update of the technology used.
Their language: Core Banking Systems are developed in COBOL, a computer language dating back to 1959. It is therefore becoming increasingly difficult to find qualified developers who master this language.
Their infrastructure: hosted on a mainframe, Core Banking Systems must be installed on the institution's servers, responsible for maintenance, updates, back-up, security and system renewal. This type of structure, therefore, entails significant maintenance costs for financial institutions.
As you can see, traditional core banking systems' architecture, language and infrastructure limit financial institutions' ability to evolve. Although these monolithic technologies are stable, they are currently too rigid and slow to change to meet new industry challenges. As a result, financial organizations face difficulties complying with new regulations, developing innovative products or services, or meeting the changing expectations of their customers. What's more, Core Banking Systems are often less efficient when storing and exploiting data, which is stored in silos.
Fortunately, recent technological innovations are reshuffling the deck with Core Banking Platforms that are more modern, more scalable and, above all, more efficient.
The Core Banking Platform: an essential tool 🔧
A Core Banking Platform is designed to be modular: transaction management functions are independent of banking services, such as loan management, deposit and withdrawal management, and new account creation.
This particularity offers many advantages to institutions, such as :
A high level of scalability and configurability: Core Banking Platforms adopt a flexible architecture based on containerized microservices, developed mainly in open-source language and with continuous integration and deployment (CI/CD) practices. Thanks to the system's flexibility, financial institutions can rapidly create new products with a high level of scalability, thus considerably reducing their Time to Market.
Advanced functionalities: innovative Core Banking Platforms offer customized functionalities - such as self-service or simplified account opening - that will win users over.
Fast processing: Core Banking platforms enable real-time settlements and transactions.
A profitable revenue model: next-generation Core Banking operates on a "Pay-as-you-Go" basis, meaning that institutions pay according to the services they use. Moreover, they benefit from reduced subscription fees on deployment, take advantage of the economies of scale enabled by the cloud, and save on maintenance costs.
In contrast to the Core Banking System, the Core Banking Platform is an essential tool for meeting the challenges of the financial sector and the competition. With this in mind, Skaleet has developed a new-generation Core Banking Platform designed for financial professionals. With its library of APIs, agnostic and scalable cloud, and PCI-DSS-certified platform, Skaleet's solution offers all the differentiating features of the Core Banking Platform.
And because we know that such a change should not be taken lightly, we offer you the opportunity to try out our solution as part of a project or product launch using a Test&Learn approach. Contact us now!
Contact Us.
Would you like to learn more about Skaleet and its solution?