July 6, 2023 • Core Banking by Marketing Skaleet
Financial institutions: 7 signs that it's time for next-generation core banking 💸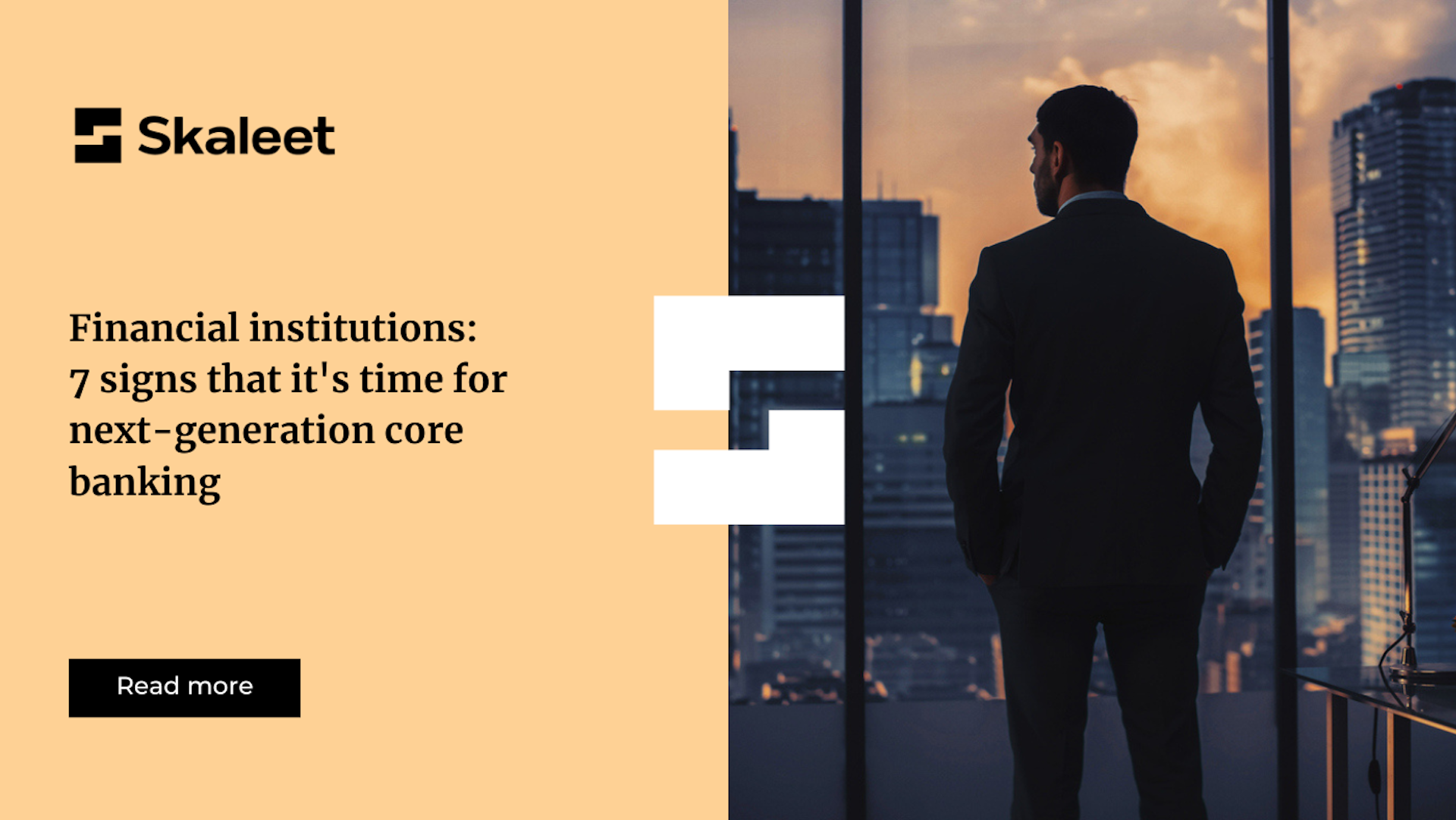 Long time-to-market, high maintenance costs, lack of flexibility, difficulty maintaining systems... More and more financial institutions are facing problems that are reducing their efficiency. And yet, next-generation core banking offers a particularly effective solution to these problems. Are you still hesitating? Here are 7 signs that it's time to take the plunge!
Reminder: what is new-generation core banking? 🤷‍♀️
Next-generation Core Banking (also known as Core Banking Platforms) features an open, flexible, and scalable architecture, facilitating interaction between financial services and technology players.
They thus differ from Core Banking Systems in several respects:
Core Banking Platforms are built on a microservices architecture using mainly open source ;

They are modular and offer a wide range of APIs, sometimes even in a Best-of-Breed approach;

They benefit from a cloud-native infrastructure;

They process and pay in

real time;

They are configured in low-code/no-code ;

They can be accessed from anywhere via third-party applications.
7 signs that it's time to move to a next-generation Core Banking Platform 🔎
#1 You lack operational efficiency
Complex and aging Core Banking Systems are technologies that are less and less mastered by young talent. And without people capable of managing these systems, it becomes difficult for them to remain operationally efficient. On the other hand, Core Banking Platforms enable you to streamline your processes, which has every chance of improving your productivity. For example, automating manual and repetitive tasks can free up your employees' time to concentrate on higher value-added tasks.
#2 You fail to develop innovative products
The Core Banking System, because of its in-house development and monolithic makeup, requires the entire system to be updated whenever it evolves. Launching a new payment product or service is a tedious process that can take several years. To benefit from reduced Time to Market and develop innovative products, it is your interest to invest in a Core Banking Platform: built on modern technologies such as cloud computing. These banking platforms enable you to bring your innovative ideas to fruition before the competition and meet your customers' changing expectations.
#3 You no longer meet your customers' expectations
Similarly, difficulty meeting your customers' expectations is a good indicator that your banking platform is outdated. Today, fast and smooth payment experiences are no longer enough: to meet customer needs, offering personalized service on a competitive interface is crucial. Aware of this challenge, Core Banking Platforms offer advanced functionalities to enhance the customer experience. Self-service functionalities, simplified account opening, diversification of offers... All these levers can be exploited to meet your customers' expectations better.
#4 You need more interconnection
Designed as stand-alone entities, traditional core banking systems often lack interconnectivity, limiting their ability to work seamlessly with other systems and services, such as payment solutions. As a result, integrating a new partner is often complex and can take months or even years. In contrast, Core Banking Platforms have been designed to facilitate interconnection with external systems and services, enabling easier collaboration with your fintech partners and more efficient management of your banking operations.
#5 Your operating costs are too high
In addition to their high initial development costs, Core Banking Systems also entail relatively high maintenance costs. Indeed, updating a monolithic system requires modifications to the entire infrastructure, which involves considerable expense. On the other hand, new-generation Core Banking is based on the "Pay-as-you-Go" concept, which means you spend only as much as you use. Moreover, these platforms generally offer subscription fees with reduced costs for initial deployment.
#6 You are exposed to regulatory and safety risks
Subject to strict compliance and data security rules, financial institutions must comply with certain legal requirements when conducting financial transactions. Core Banking Systems are not very flexible and are often not fast enough to adapt to new regulations. Moreover, these systems may present security vulnerabilities due to their closed architecture and protocols. You need a Core Banking Platform that integrates advanced risk management and regulatory compliance functionalities.
#7 You don't have enough flexibility
Highlighting the previous indicators, the lack of flexibility reveals that your banking platform is no longer adapted. Traditional core banking systems are no longer agile enough to meet the needs of financial institutions... and their customers! With its modular, flexible architecture, the Core Banking Platform is your partner of choice, enabling you to tailor your system to your specific needs.
Skaleet: next-generation core banking that adapts to your needs 🤝
As you can see, like the Core Banking System, the Core Banking Platform is an essential tool for financial institutions wishing to remain competitive.
With this in mind, Skaleet's new-generation Core Banking Platform is designed to help you become more efficient in every respect! Specifically designed to meet the challenges faced by financial institutions, it stands out from monolithic, costly, and inflexible Core Banking Systems. Key features include
Open, modular architecture for easy integration with identified partners;

A secure, PCI-DSS-certified platform;

A library of APIs for developing products and services;

Time to Market 4x faster than the market average;

A Continuous Delivery solution that guarantees the long-term evolution and enhancement of the platform;

An agnostic, scalable cloud.
With Skaleet, you benefit from an agile, scalable, and fully customizable system to capture the market opportunities of today and tomorrow. We look forward to hearing from you!
You might also
be interested in
...
Innovation. FinTech. Digital Banking. Neobanks. Open Banking. Core Banking. Cloud.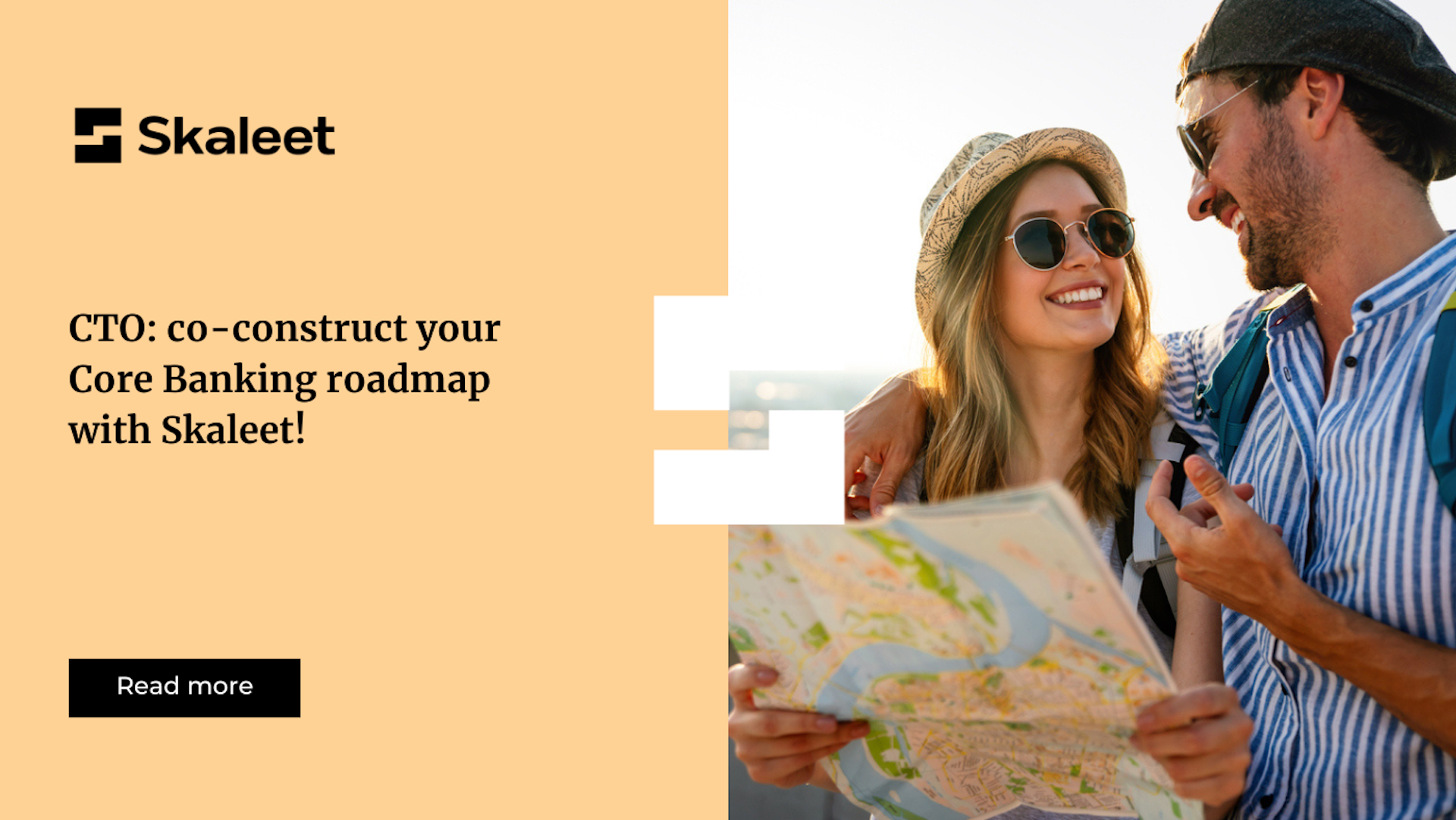 June 27, 2023 • Core Banking by Marketing Skaleet
CTO: co-construct your Core Banking roadmap with Skaleet! 🗺️
Are you looking for a turnkey Core Banking solution that will accelerate...
Contact Us.
Would you like to learn more about Skaleet and its solution?