June 21, 2023 • Core Banking by Marketing Skaleet
Skaleet joins BIAN to promote a common framework through a Coreless Banking approach 👨‍💻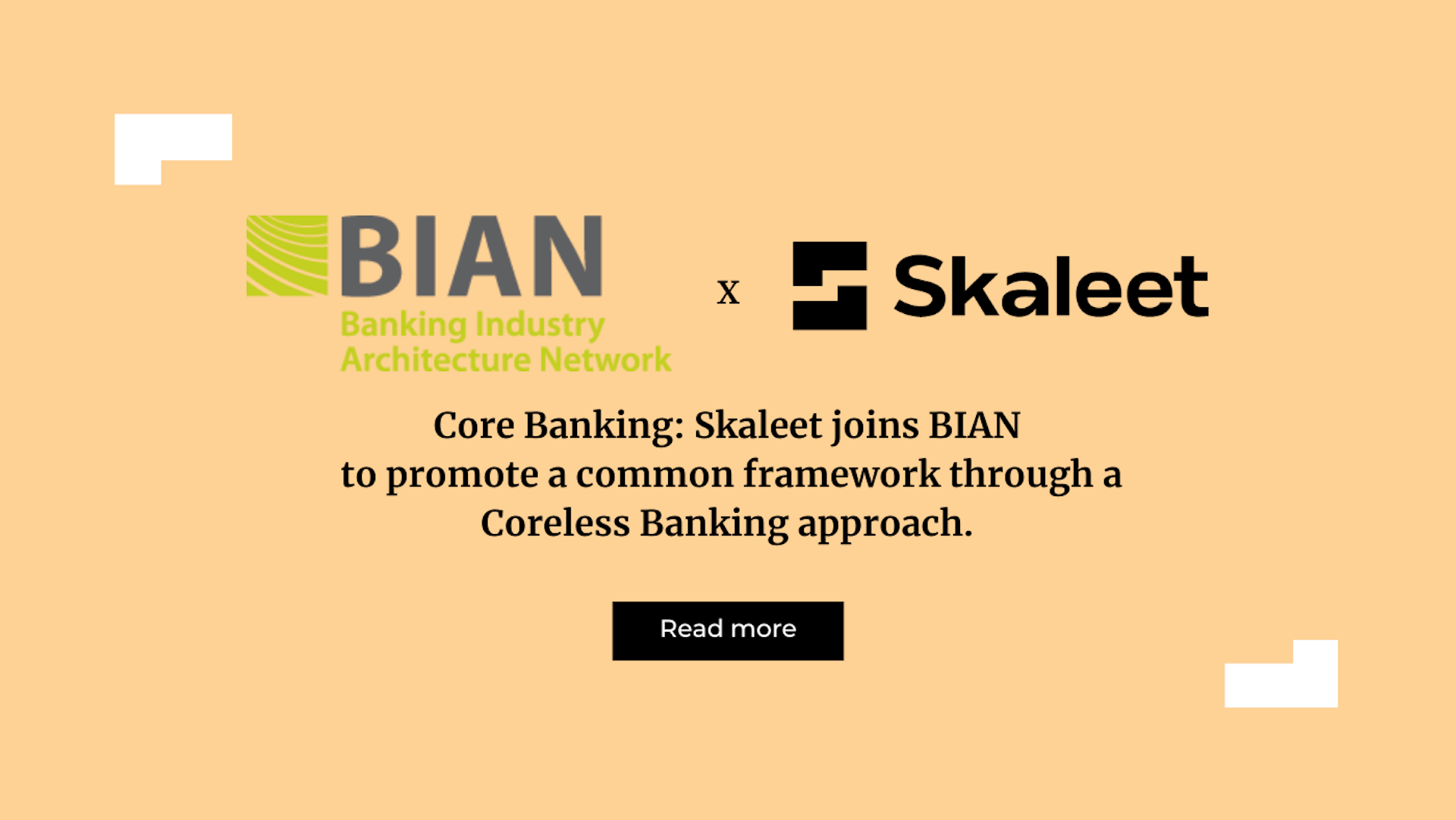 Paris, France, June 21st, 2023 - Skaleet, a fintech company offering a new generation of Core Banking, today announced it has joined the Banking Industry Architecture Network (BIAN), an organization that promotes and provides a common framework to shape the future of banking technology.
Skaleet will share its expertise in next-generation Core Banking with BIAN members and partners to develop a shared vision for creating common standards, modern technology, and driving Core Banking excellence.
Joining BIAN will enable Skaleet to ensure that its SaaS, Cloud-based Core Banking platform is compatible with BIAN's standards, facilitating the integration of the solution by financial institutions. Together, Skaleet, BIAN, and its members will collaborate to create a universally compatible vision of Core Banking based on microservices technology, through a Coreless Banking approach.
" Financial institutions now recognize that having a modern infrastructure is no longer an advantage but a prerequisite for maintaining a competitive edge. We are proud to join the BIAN network to continue the work of standardization and promote a modern banking infrastructure through a common framework and Coreless Banking approach. We look forward to working alongside financial institutions, technology providers, and partners to collectively define the best practices of tomorrow. "
Ségolène Démoulin - Chief Product Officer at Skaleet
" Skaleet, a next-generation player in the Core Banking industry, to the BIAN community. Skaleet's Core Banking platform is recognized for its highly configurable setup, scalability, and perpetual evolution. As a member-led organization, industry collaboration is central to us and we're excited to tap into Skaleet's knowledge, expertise and experience as BIAN continues to focus on the establishment of universal and scalable standards for Core Banking infrastructures globally. "
Hans Tesselaar - Executive Director of BIAN
About BIAN:
Established in 2008, the Banking Industry Architecture Network (BIAN) is an independent, member owned, not-for-profit association, designed to build and promote a common architectural framework for banking interoperability issues. BIAN's goal is to define operability and semantic definitions for IT services in the banking industry.
The community of over 80 members focuses on creating a standard semantic banking services landscape, while ensuring consistent service definitions, levels of detail and boundaries. This will help banks to achieve a reduction of integration costs and take advantage of a microservices architecture.
Financial institutions, software vendors, and system integrators, along with technology partners and consultancies, are invited to join the association and play a collaborative role with other industry leaders in defining, building, and implementing next-generation banking platforms.
About Skaleet:
Skaleet is a fintech offering a SaaS Core Banking Platform (CBP). Cloud-native and meeting the highest security standards, it is an alternative to the legacy infrastructures of banks and financial institutions. Thanks to its open and flexible platform, its customers can easily imagine, configure and deploy new products. With a single solution, its architecture addresses several business models reducing time to market and optimizing costs. Skaleet counts more than 40 clients and has managed more than 10 million users worldwide.
Skaleet is based in Boulogne Billancourt, France. To discover more, visit the website, Twitter and LinkedIn.
Press Contact:
Jihane Teretal
06 08 27 68 85
Contact Us.
Would you like to learn more about Skaleet and its solution?