July 18, 2023 • Technology by Marketing Skaleet
Legacy: what issues do banks face when it comes to innovation?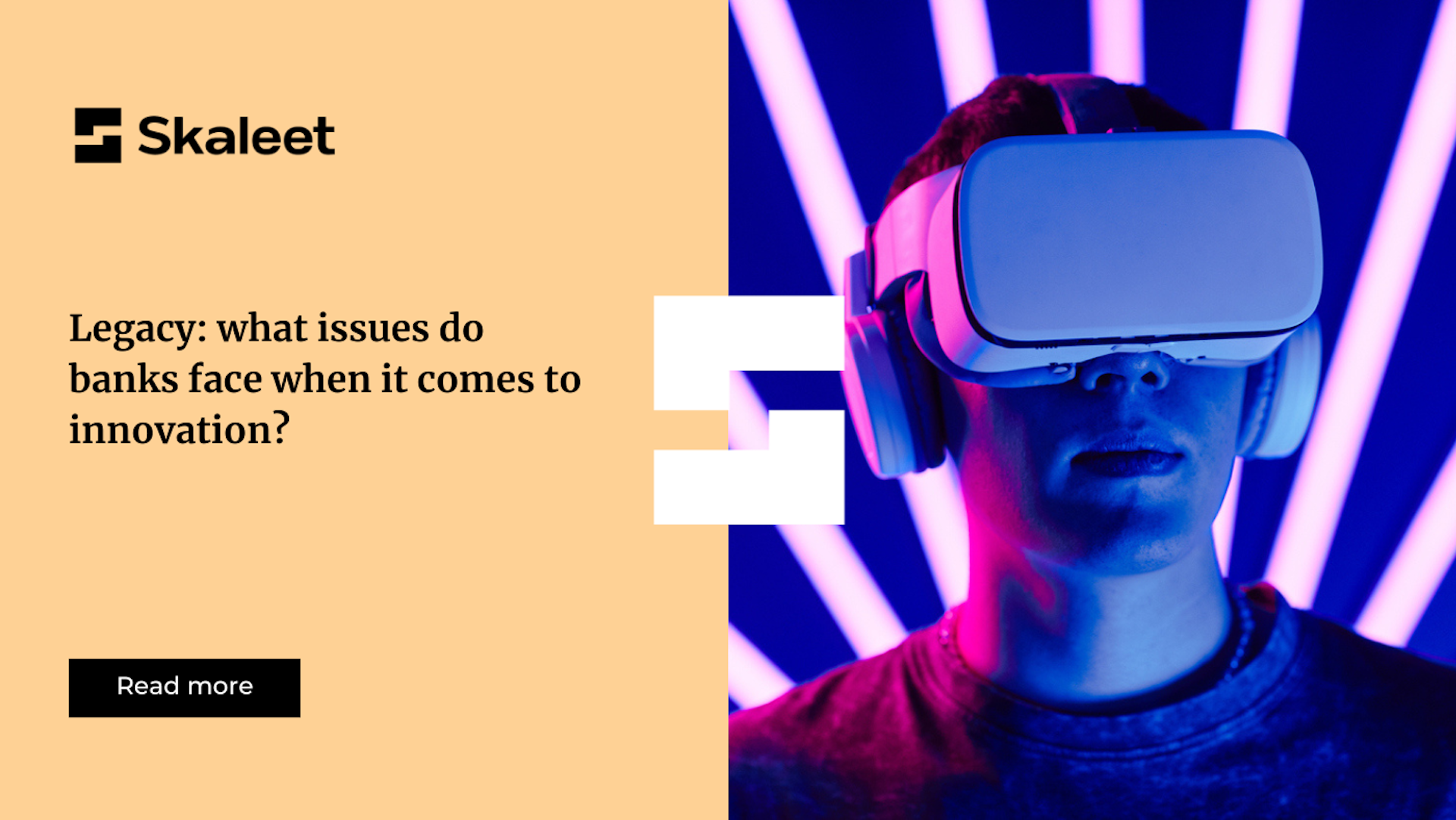 Creating innovative functionalities, responding to changing customer expectations, differentiating user experience... A bank's ability to innovate is essential to ensure its long-term competitiveness. Yet many institutions still need to rely on legacy systems that make change difficult. Here's how!
Legacy: why Core Banking Systems have trouble innovating
"Legacy" refers to aging systems, software, or technologies still in use. For the financial sector, legacy refers to Core Banking Systems, interfaces inherited from the 1980s but still used today by many financial institutions. However, these inflexible and inflexible systems have limitations, particularly regarding innovation. These are reflected in excessive Time to Market, the impossibility of launching innovative products or services, and the difficulty meeting customer expectations.
Technical complexity
Complex and old, legacy core banking systems are often built on infrastructures based on programming languages such as COBOL, which need to be used by the new generation of developers. This makes upgrades and innovation more difficult to implement.
A rigid system
Due to its monolithic constitution, a Core Banking System has no choice but to update its entire system if it wants to introduce new functionalities or modify its processes. Launching a new service or product is time-consuming, sometimes lasting several years. This excessive duration means that products can never be found on the market in time to satisfy emerging consumer needs.
A costly approach
Core Banking legacy systems are costly to implement and have high maintenance costs. And since any change has to be system-wide, innovation can quickly prove expensive for universal banks.
A lack of interconnection
Legacy systems have generally been created as stand-alone entities, restricting their ability to work seamlessly with other systems and services. As a result, integrating a new partner can take months or even years.
A long and complex compliance process
The activities of banking institutions are highly regulated and subject to very strict security and compliance standards, particularly when it comes to innovation. Adopting innovative technologies or launching a new product is particularly difficult for legacy core banks, which must adapt to new regulations faster.
Legacy: what alternative to make innovation easier?
Faced with the constraints of the Core Banking legacy, it is becoming essential for banking institutions to find other ways to meet their customers' expectations and launch new products more quickly. But what is the best alternative to facilitate innovation? Answer: The Core Banking Platform!
The Core Banking Platform: a new-generation solution...
Core Banking Platforms (or CBPs) are the latest generation of core banking solutions. Developed recently, they enable financial institutions to take full advantage of the digital revolution by meeting the evolving requirements of the sector. Particularly well-suited to the challenges of Open Banking and Best-of-Breed approaches, they can be deployed continuously with meager maintenance costs and perfect scalability.
Promote progress!
Modular architecture reduces the time to market
CBP benefits from an open, flexible architecture that facilitates change. Based on micro-services, this architecture enables individual modules to remain autonomous. In fact, unlike legacy Core Banking, upgrades do not impact the entire system - making it much easier to develop new products. Time to market can then be reduced to just a few months.
A reliable system that automates the management of non-differentiating products
Customer account management, payment orchestration, card issuing and processing control... A Core Banking Platform can reliably manage these "basic" activities. Its robust, always-available system can automate non-differentiating banking operations. Relieved of the management of these operations, banking institutions can then concentrate on high-value-added activities, such as the development of new products and services.
An orchestrator approach that facilitates the development of new digital capabilities
Thanks to its real-time data hub and event-driven architecture (EDA), Core Banking Platforms facilitate the routing of data transactions and the coordinated management of APIs. This innovative approach preserves the integrity of information while fostering the development of modern digital experiences and innovative applications in areas such as retail banking, payment cards, loans, and credit.
Universal banks: rely on Skaleet's Core Banking Platform!
Reliable, secure, and particularly flexible, Skaleet's new-generation core banking system offers you increased efficiency and a host of innovative opportunities. Our aim? To provide your customers with an ultra-personalized experience.
With the Skaleet solution, you benefit from the following:
A modular API-first architecture that allows connection to Best-of-Breed partners and the development of new components;
An ISO/IEC 27001-compliant and PCI-DSS-certified platform that guarantees the security of your sensitive information and your regulatory compliance;
Time to Market 4x faster than the market average thanks to its modular, microservice architecture, which is robust and scalable;
A Continuous Delivery solution that ensures the ongoing evolution and enhancement of the platform: Skaleet is enriched every two months, so you always have access to new possibilities;
A scalable, cloud-agnostic
With Skaleet, become the architect of your business and build your innovative ecosystem. Contact us now!
You might also
be interested in
...
Innovation. FinTech. Digital Banking. Neobanks. Open Banking. Core Banking. Cloud.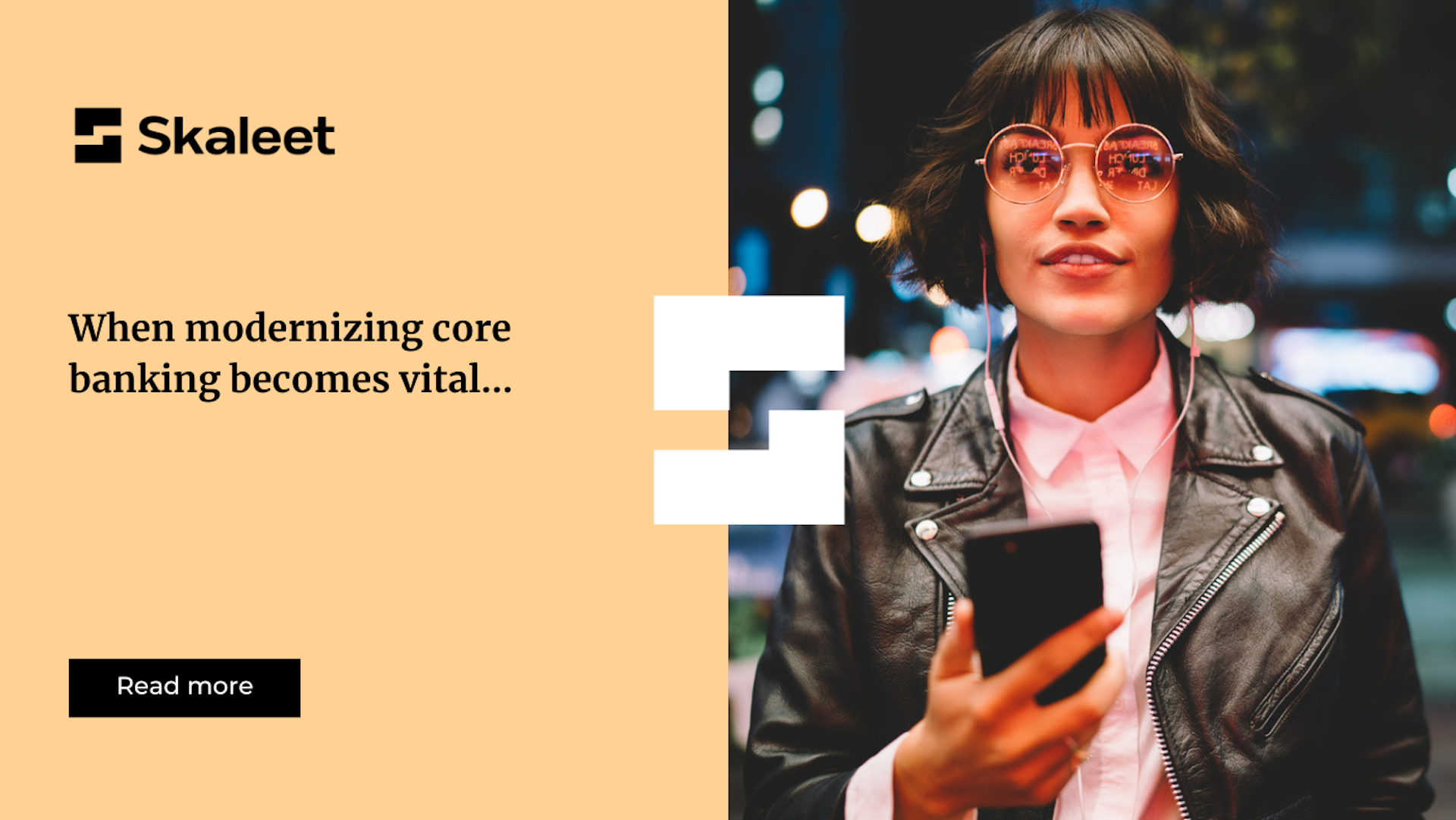 July 11, 2023 • Core Banking by Marketing Skaleet
When modernizing Core Banking becomes vital...
The financial sector faces unprecedented challenges that force institutions...
Contact Us.
Would you like to learn more about Skaleet and its solution?