June 1, 2023 • Neo banks by Marketing Skaleet
Banks: how can you diversify your income? 💳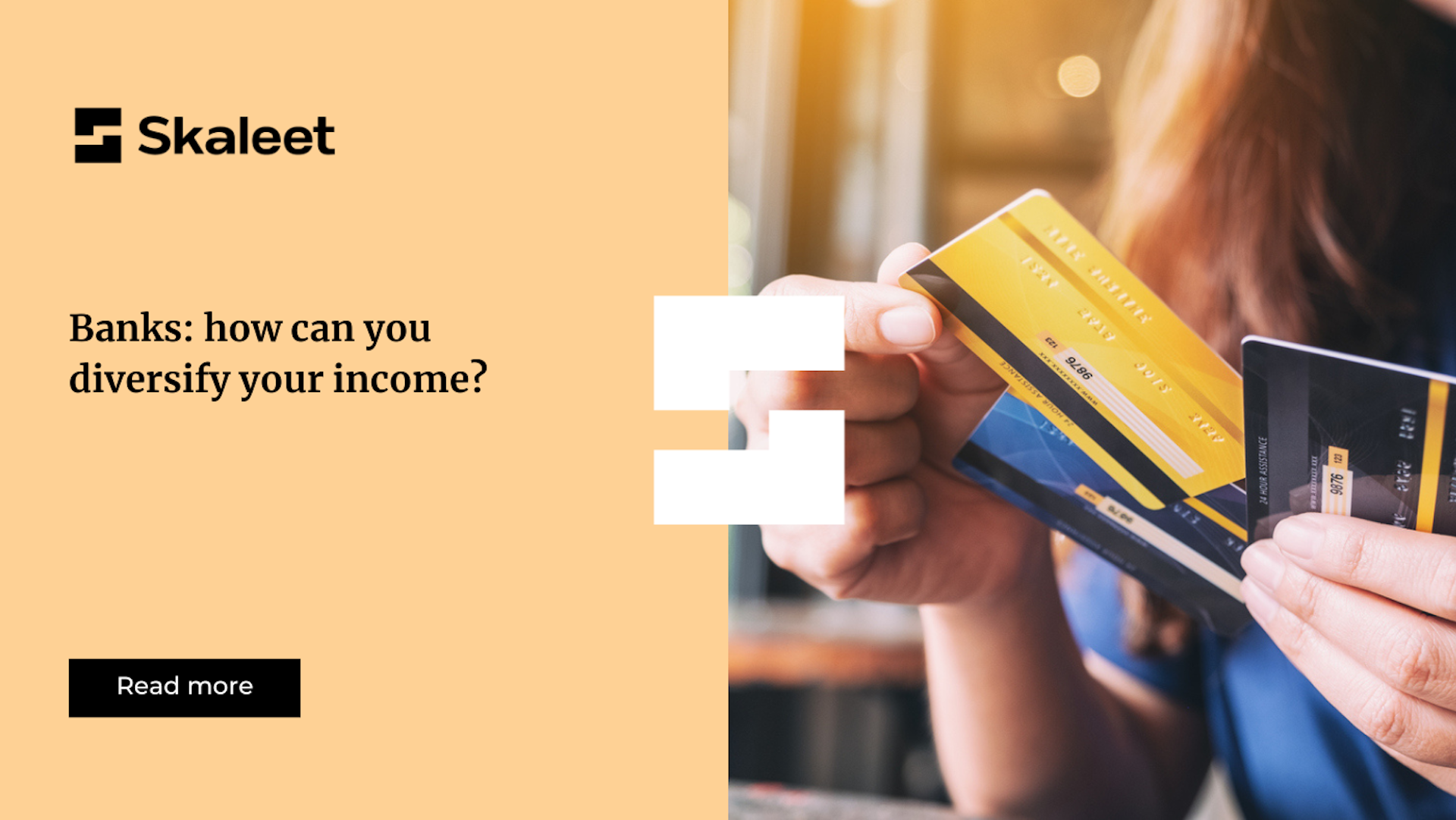 Business diversification is a phenomenon that has been observed in the banking market for several years now. However, the trend seems to be gathering pace, particularly among traditional - or universal - banks seeking new sources of revenue.
Diversification consists in offering new products and services that complement the company's core business to expand its portfolio of activities and customers. This approach offers two advantages:
It encourages customer retention: customers benefit from new financial products and services that meet their evolving needs, making them more satisfied and loyal.
It encourages acquiring new customers: prospects are attracted by a wide range of banking products and services and are, therefore, more likely to become customers.
So, diversification of activities goes hand in hand with diversification of income. Thanks to diversification, the bank's financial profitability is based on various revenue sources, thereby increasing sales and securing the bank's financial health.
Bank profitability: time to diversify revenue sources ⏰
While diversifying banks' sources of income is advantageous, it also seems necessary. The ECB's 2022 annual report concludes that although bank profitability has risen to 7.6%, it remains below the average cost of equity capital.
Administrative expenses and depreciation rose by 3% due to increased personnel and IT-related costs.
In a highly competitive environment, with rising operating costs and a stagnating market, banks are looking for new sources of growth. One of the most important developments in the market is the diversification of the banking offer through strategic partnerships.
These partnerships may involve integrating financial products and services developed by fintechs to provide innovative new offerings. In this way, banks diversify their offering and, as you will have guessed, their sources of revenue.
In short, the trend seems to be towards creating networks in which interdependencies are woven, enabling banks to develop the depth of their financial products and services catalogs to ensure their profitability and cope with rising expenses.
Banks: diversification rhymes with (digital!) transformation 🪄
Meeting consumer expectations
The ECB's 2022 annual report is clear: "Banks must develop and implement robust digital transformation strategies ."In addition to being a key efficiency factor, digital transformation is necessary to meet new consumer expectations. Consumers are becoming increasingly demanding regarding the banking experience: personalization, innovation, fluidity, and convenience... Banks need to diversify their products and services to satisfy their customers and prevent them from turning to the competition. However, this diversification requires a digital transformation to modernize banks' IT systems.
Free yourself from the rigidity of IT systems
To diversify their offering, banks need to rethink the structure of their IT systems. Indeed, many banks rely on rigid, monolithic Core Banking Systems, which hamper their ability to innovate and evolve. These legacy technical infrastructures require lengthy and costly projects to develop any new product or service. In this context, it is challenging to diversify one's offering...
To diversify your revenue streams, you must modernize your technical architecture and equip yourself with an open, modular, and scalable next-generation Core Banking Platform. This will enable you to rapidly release new products and services and continuously diversify your portfolio and meet new consumer expectations.
Read also: Universal banks: how to accelerate your innovation? 🎢
Opening up the banking ecosystem
Banks need to open up their banking ecosystem to diversify their activities and revenues. To develop the depth of their catalog, banks need to be able to integrate innovative and diversified products and services into their offering. That's where APIs come in!
These programming interfaces act as intermediaries between several applications: they act as gateways that enable one piece of software to communicate with other pieces of software. Thanks to APIs, banks can connect to software and functionalities that allow them to diversify (and differentiate!) their offer.
Any new component can be integrated, as the choice of "bricks" is unlimited. This Lego-like structure, via APIs, facilitates the integration of adapted solutions, enabling the flexible composition of an evolving ecosystem of partners to design differentiating customer experiences and respond to the specific needs of a market.
To conclude...
So, to diversify your revenues, the most effective solution is to modernize your technical infrastructure, turning to a Core Banking Platform that offers a broad layer of APIs. The possibilities for innovation and diversification are endless!
In addition, some Core Banking Platforms adopt a "Best-of-Breed" approach. For each constraint or need identified, the software integrates the most appropriate tool developed by an expert in the field. Thanks to an agile yet specialized ecosystem, this approach enables us to draw on the best solutions.
Read also: Banks: rely on a reliable and secure Core Banking Platform to accelerate your innovation 🚀
Skaleet has developed a modular, scalable Core Banking Platform based on a catalog of APIs and Best-of-Breed solutions to free banking players from technological and financial constraints. So, you choose the modules that interest you, orchestrate your ecosystem, and release new products in just 3 to 4 months!
Become the architect of your business with Skaleet: contact us!
Contact Us.
Would you like to learn more about Skaleet and its solution?